CBD applications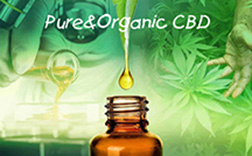 Cannabidiol (CBD) is an extract from the cannabis satavia plant (aka marijuana). CBD can be extracted from cannabis plants that contain THC or from industrial hemp which contains little or no THC. CBD is non-narcotic and does not produce any any euphoria or any "high" when the THC is not present. Commercial CBD products must have less than .03mg of THC per dosage An article published in the British Journal of Anaesthesia explains how "Topical application of cannabinoid receptor agonists blocks nociception in inflammatory models of pain." In simple terms, this means that CBD acts as an analgesic (pain reducer), specifically in how it affects the CB1 and CB2 receptors in the nervous system. As far as which CBD topicals provide the most benefit when it comes to pain, different topicals have different benefits to offer depending on the way they are processed and the ingredients that are used."
HOW IS IT USED?
Most CBD products are presented as topical lotions or oils. These can be applied directly to the area of pain for the most effect.
WHAT IS IN THE TOPICAL LOTION?
Pure & Organic CBD contains CBD from cannabis, in a lotion of natural oils, wintergreen, eucalyptus, camphor and menthol.